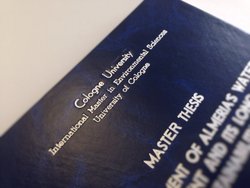 Submission of Thesis
For submission of your thesis please bring the two identical copies including the signed declaration of authenticity directly to the address below.
Dr. Jennifer Hülsberg
Lehrstuhl für US-amerikanisches Recht - Universität zu Köln
Aachener Strasse 201/ 4. OG, 50931 Köln
After submission of the thesis, when both examiners confirm that you have received at least a 4,0 in your written work, the secretariat will schedule a mutually convenient date for the thesis defense. The defense is not open to the public, although the student can invite other students of the IMES program to attend.